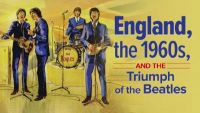 While perusing Facebook this morning, I saw an ad for Great Courses Plus offering a free online course about The Beatles. I decided to save all my readers the hassle of clicking on a Facebook ad (that only encourages more unwanted ads) and look into it myself.
The course is called England, the 1960s, and the Triumph of the Beatles and includes 12 lectures. Each lecture is about 25 minutes:
The Magical Mystery of the Beatles

Fateful Intersections in Liverpool

Finding the Beat in the Beatles

Nowhere Men: The Dark Side of the Beatles

Beatles for Sale: Brian Epstein's Genius

The Cold War, JFK, and the Beatles

The Beatles Conquer America

The Englishness of A Hard Day's Night

Help! The Beatles at the Top in 1965

Crossroads: The Beatles in 1966

The Summer of Sgt. Pepper's

Hello, Goodbye: The End of the 1960s
From what I can make out from the website, once you're registered and give them your credit card information, your 14 Day FREE Trail will begin. But here's the fine print on the site with how to avoid having to pay for anything:
If you cancel, service access will terminate at the end of the current paid billing period. If you cancel during the free trial, access will remain until the end of the free trial period.
There is no refund for early termination.
I'm not sure how long this course has been offered, but the 26 reviews of it only go back one month, so it appears fairly new. It also appears to be the online Beatles related course on this site.
I feel the need to note that this is not an affiliate article. I get nothing for mentioning this course to you and am only doing to bring attention to something of interest to Beatles fans. So if you need something to do while staying home during the pandemic, you may want to check this out. I know I will be signing up…and then canceling the next day while still enjoying my 14 day free trail!